schedule
Mon–Fri 6:30-17 (as necessary)
favorite
Väkkärät (1-2y.) Tel. 040 186 1671
Vimpulat (2-3y.) Tel. 040 359 1246
Vekkulit (3-4y.) Tel. 040 578 1884
Vikkelät (4-5y.) Tel. 040 185 9024
euro_symbol
The customer fee is the same as in municipal early childhood education. Service voucher and daycare hours may affect to the fee.
family_restroom
Kodin ja päiväkodin välisenä viesti- ja tiedotuskanavanamme toimii Daisy. Viestimme Daisyn kautta mm. päiväkodin tapahtumista ja kuulumisista.
Perheet ilmoittavat Daisyn kautta mm. hoitoaikavaraukset ja poissaoloilmoitukset.
Pilke DaisyFamily
Joyful sports-oriented daycare centre Liminka
Sports-oriented daycare centre Pilke Liminka is located by excellent transport connections in Liminganportti. We provide high-quality child-centred early childhood education and care for children aged 0–5 years. The daycare centre surroundings offer versatile opportunities to exercise, explore and practise using the senses.
Diverse joy of exercise
The joy and delight of exercise are part of our everyday life. Our goal is to help children find the joy of exercise and adopt a sporty lifestyle.
The sports-orientation is implemented in the daycare centre's everyday operation through trips, daily yard games, weekly musical movement activities and instructed exercise. In addition, we provide the children with opportunities to try various sports, such as swimming, junior wrestling and cycling.
Early skills in English
We also offer language-enriched early childhood education in English for children over three years of age. In our language-enriched education, children can practise familiar songs, rhymes and concepts in English through common singing and pondering activities. The language-enriched activities are an easy way for a child to familiarise with a language in a gradual manner.
Sports-oriented daycare centre Liminka - Näin löydät meille!
Pitkäkoskentie 1
91900
LIMINKA
Suomi
Ota yhteyttä
Our customers have rated us
Pilke day-care centre customer satisfaction survey, 2023: "I am satisfied with the early childhood education and care of my child" (on a scale of 1 to 5 where 5 means best).
Visit our day-care centre to learn more!
Visit us to take a peek at the facilities and see the daily routine and activities at the day-care centre. We will get to know each other, answer your questions, and explain how to apply for and start day-care. Get in touch and arrange a tour!
Example of the daily routine at daycare
The daycare centre schedule is always designed based on its size and objectives. This routine is a general example of a day at daycare. The daycare centre manager provides further information on the routine of your daycare centre.
schedule
6–7
Daycare centre doors open. Welcome! We start the day with a hug and have a chat. Then we gradually start to play.
schedule
8.30–11
Small group activities indoors and outdoors.
schedule
n. 11.15
Lunch, followed by a rest. Some of the children sleep or rest while the others go outside. After the rest, it's time for quiet play and activities.
schedule
14.30
Play, small group activities and outdoor activities.
schedule
17–18
The daycare centre doors close. Thank you for today and see you tomorrow!
Rantalakeus: Päi­vä­ko­ti Pilk­keen Neroja kyy­di­tään Muk­su­bus­sil­la! – Katso kuvat ja video!
Lujempaa, lujempaa, huutavat lapset opettajalleen. Muutaman viikon käytössä ollut Muksubussi on ilostuttanut Päiväkoti Pilkkeen toimintaa, uutisoi Rantalakeus 7.9.2023.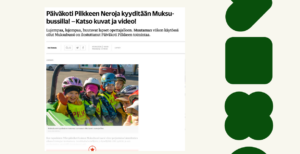 Kysy lisää
I will be happy to answer any questions regarding our day-care centre; introduction visits, availability, applications, customer agreements and their amendments, invoicing, customer feedback, and so on.
Manager Saara Yli
Tel. 040 592 4551
saara.yli@pilkepaivakodit.fi
Pitkäkoskentie 1
91900 Liminka